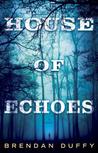 House of Echoes by Brendan Duffy
My rating: 4 of 5 Tophats
Depressive former-banker mother, passive-aggressive novelist father, Charlie the odd child who get's a "tightening" when something bad is about to happen and the baby, Bub, move to upstate New York to refurbish the run down family estate after Charlie is bullied at his former New York school. Fundamentalist religious sect welcomes them, integrates them, and then demands adherence to their religious laws. Hilarity does not ensue.
To me this is somewhat of a mashup between Harvest Home by Thomas Tryon and The Shining by Stephen King. Duffy moves the action along and throws in some intriguing plot twists. This one kept me up past my bedtime reading and then kept me awake long after I went to bed. Super satisfying read.